Forum Thread
Bumping GTS trades
Forum-Index
→
Suggestions
→
Rejected
→
Bumping GTS trades
This idea comes from another site that allows you to bump up trades (For those familiar with it, its Howrse with the horses in the direct sales)

I know many trade get dropped way down with people always bringing in new trades to the GTS, then some people don't want to search for your trades, items or Pokémon, because sometimes they look just to see what is in the GTS to offer on (like me).

My idea is that once a day (after the resets) you can bump all your trades to the top of the GTS as though you had just put them up.

Let me know what you all think.
Sure, it's a great idea. It allows people that are committed to their trade to let people see it for a while every day, but the cons are. It would almost be exactly like someone adding a new trade. Your bump would just go down again in a matter of seconds, and some people may hog certain times because people are usually on at those times.
---

People often think the PH sprites are bland. Do they shade? Well, yes they do. You'll be surprised how much care is taken for these sprites.

ToshiroHex

OFFLINE
Trainerlevel: 23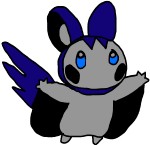 Forum Posts:
75
I support this.
I don't usually make trades on the gts, but I know that when the trades go a ways back, unless someone wants a specific item, it is ignored. This could be very useful to people who sell items at the wrong time. But, as Mrinja said, most people would probably just bump when people are most active.
Maybe, instead of once a day, it could be once a day, but you can't bump it until after a certain amount of time after nobody offers. So that, if you do sell something and a lot of people offer, you have to wait to bump it. Or, maybe it could be, sort of like bumping, but when somebody offers that trade goes to the top.
---
This suggestion has received less than 60% support and was moved to rejected.
Total votes:
19
Support ratio:
57.9%
---
Credits for avatar to
~Cookie~
Kitties! Riako has no idea what he unleashed with that update🙀
Collecting Lovely Larvesta and Silly Seel Plushies~
Looking for Ice Gems and Flying Gems
here!
Help me hunt a Shiny Articuno!
(You can win your own non-shiny Articuno in return)
Breeding events for the cause
here!