Forum Thread
Upside Down Magic ~~ rp sign ups ~
Forum-Index
→
Roleplay
→
RP Sign-up
→
Upside Down Magic ~~ rp sign ups ~
Fluxer




Flare




Flicker




Flyer




Fuzzie



...Finally, you are of age to enroll in the Sage Academy for the Magically Gifted! You have received a message in the mall, and soon you find yourself on a peculiar 'field trip' with a messy looking man in his 30s.

Eventually, you arrive at the school, but it is not what it seems. They test your magic, and you've known your magic all this time to be 'normal'. It's not. You're magic has been somehow altered, and it is not like the others that have the same magic type as you.

In the next few weeks, you bunk down in a weird underground shelter that's decorated to somewhat represent a classroom. It's boring. And then a rumor starts floating around the school...




This is a wip! You can still sign up.

My forms
---
I swear, I'm really trying
It just don't come natural to me to think that you'd want me for me
I swear, I'm really trying
Oh, I'm sorry, I promise, I'm doing my best
I just haven't learned how to be human as you are yet
Username:
-NeoSanchez-

Character Name:
kendo Sato

Character Age (14+!):
19
March 21st

Personality:
A laid-back, relaxed man. He's lazy and chill, and loves cracking jokes. he's well-liked and amiable. he gets along with pretty much everyone. He's approachable and friendly, though some are put off by his scars.

Appearance:
A tall man, standing at 6'1, with a thin, but muscular, frame. he wears a tank-top over a pair of black shorts and black sneakers. He has a messy mop of golden-brown hair, reaching down to his shoulders, usually tied in a high ponytail.His arms and fists are bandaged, and a nasty burn scar runs along the side of his face. His eyes are of two different colors, one side ice-blue, the other gray.

Backstory:
TBA

Power:
Flare, but isn't completely resistant to his own fire. Kind of like Dabi.

Palpad?:

Other: he/him, Bi.
---
I'm not your protagonist
I'm not even my own
Cardboard_Spaghetti

OFFLINE
Trainerlevel: 23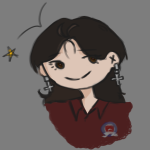 Forum Posts:
69
AceSpadeAS

OFFLINE
Trainerlevel: 24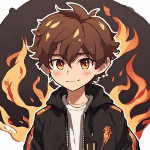 Forum Posts:
118
Username:Yeeeeet108
Character Name:Ace
Character Age (14+!):15
Personality:Calm and friendly
Appearance:Appearance:A young short boy with brown hair brown eyes and wearing a black jacket and hat with fire image and short pants
Backstory:He was an orphan who was lonely but as he grew up he began to know what is friendship
Power (please also mention what's wrong with it!)
He is able to turn into creatures but often got into the wrong creature he wanted and sometimes the creature is not helpful for the situation
Palpad?:no
---
Once you felt desparate or negative thinking it will looked like you just fell but all you need is Positivity and
Determination
to help you get up again and kept moving
My pfp from FatHead
~ It's A Beautiful Day ~
IgnisCarmelita

OFFLINE
Trainerlevel: 34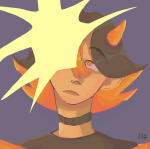 Forum Posts:
95
"I was being sarcastic. Do better next time."
Username: IgnisCarmelita

Character Name: Rowan Amaryllis Prince
Character Age : 16

Personality: A perfectionist, though pretty lax to others most of the time. He snaps a lot to those that annoy him. Rowan prefers to take things seriously instead of just going with the flow. Due to this, he can't fully relax at all.

Appearance: Dark hair with elven ears poking out behind the thick strands. Looped piercings dot his ears, complimenting his dull onyxs eyes. Usually wears turtlenecks, parachute pants, fingerless army gloves and furla army boots.

Backstory: TBRP'D
Power: Upside Down Flare

Instead of creating fire, he makes objects around him randomly explode. They don't have to be specific, he could be pointing at a chair and a water bottle on the windowsill with combust. The explosions vary on the size, and cannot happen on living things (this includes plants). The explosions aren't that dangerous, just very bright, loud and startling.
Palpad?: Yeah!
---
---
---

eh screw it, why not (i might edit depending on what happens once you finish setting this up, idk)



Show hidden content
---
---
---
- Username -
Daiko
- Character Name -
Seijo Autima
- Age -
17
B-day - November 30th
- Gender -
Male
- Power -
Flare
Abnormality - He uh... Doesn't exactly have fingers? Instead, he can breathe puffs of flames and the feeling of nonexistent smoke fills his lungs every time he uses it.
(hopefully this is ok, if not i can change it)
- Pronouns & Sexuality -
He/Him/They/Them & Demisexual
- Appearance -
Seijo is a 6'2 man that weighs around 155 pounds and is always seen with a black beanie at the top of his green, messy hair that is quite long. He had a braid in his bangs and keeps his hair up and tied close to his neck (as seen in some of the images below) and has semi-heavily pierced ears. Although he has prosthetic arms
a trait that I'm using a lot recently for some reason
, he wears black fingerless gloves and "fake fingers" that are convincing enough to pass as real ones. He also has a golden left eye, which is, of course, a prosthetic, and a chocolate-brown right eye, which he can pass off as "heterochromia". Said eye has a massive onslaught of scars around it, which is quite noticeable. He wears a simple black shirt with an open red flannel shirt over it, with ripped-up dark blue semi-skinny jeans and dark brown combat boots. He also has a neck tattoo that I, of course, haven't thought up a design for yet.
picrew
picrew 2
picrew 3
picrew 4
picrew 5
- Personality -
Seijo is very stoic and calm, not one to show emotion or get into many conflicts. He isn't the most talkative person and will only speak once spoken to, but most of the time he will only give a simple response as he hates useless or boring conversations. Seijo likes to fidget with whatever he gets his hands on and will divert all of his attention to the object to keep him occupied. He is incredibly smart and is easily able to read others pretty well, even though he claims that he doesn't understand humans. His sight and hearing are quite sharp and he notices the smallest details, and sometimes eavesdrops on conversations within earshot. Some people have trouble being around him due to the strange vibes he gives off, as well as the continuous deadpan stare, but he doesn't mind in the slightest. In fact, Seijo seems to not even notice the uneasy feeling he gives off or the fact that he's always lonely. This is, of course, subject to change and probably will be added onto as the RP goes along. Wouldn't be a daiko character if I was really inconsistent and made stuff up lol
- History -
Is it alright if I
make it up
tell it as the rp goes along? I'm not very good with writing backstories in forms lol
- PalPad -
sure
- Other -
Hopefully everything is ok, I'll be happy to change anything if it doesn't fit!
He's a certified daiko classic so he's gonna be kinda edgy if that's alright lol
totally didn't copy/paste this from somewhere else, no siree
---
---
---
---
@neo @cardboard res'd
@Yeeeeet sorry if I wasn't clear- your power has to be one of the ones listed in the first spoiler
@ignis accepted
@daiko accepted (I'm not gonna edit much, I'm really just gonna make a few more rules and make some things more clear)
---
I swear, I'm really trying
It just don't come natural to me to think that you'd want me for me
I swear, I'm really trying
Oh, I'm sorry, I promise, I'm doing my best
I just haven't learned how to be human as you are yet
AceSpadeAS

OFFLINE
Trainerlevel: 24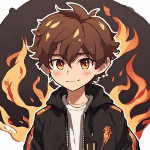 Forum Posts:
118
Username:
Tsukoyomi

Character Name:
Kay Anima

Character Age:
18

Personality:
A little bit of an airhead, Kay always seems like he's staring into nothing as if there's something that only he can see, never quite tethered to reality. He's a quiet one but whenever he does speak its with a profound raspy drawl that either imparts upon the listener what they need to hear at the moment or some cryptic message that only later will be understood. Kay always keeps to himself, preferring to observe as he likes his personal space and isn't very big on tactile affection, often shying away from any touch. Instead he people watches and gains happiness just by being around others who won't push him outside of his comfort zone.

Appearance:
With skin blistered with burn scars and pale red hair, it seems almost obvious that Kay is a flare. He has quite a frail body, skinny which not quite suited towards physical combat, scars running alone whatever patch of visible skin there is. While Kay likes to wear clothes that mostly cover himself and by extension his scars, he does like comfy clothes that he can move easily in. He does use a cane to get around because of old injuries

Backstory:
Once upon a time there was a child thrown into the flames. It was left to burn and be reborn in its flames, a life taken through heretical beliefs. Unlike that child, Kay was born in the flames, made whole by it and living by it. Though, for those who wished otherwise he never quite lived up to a silent hope that they all had for him.

Power:
Soul Flare
He can see the fires that governs a person's soul. From lifespan to future, these flames tell a person's story though must be touched in order for these tales to be passed on. He can't manipulate it no matter how hard he tries aside from his own, but the fire doesn't do much damage... it just hurts to hold

Palpad?:
Sure
---
*:・゚✧
ι ωσкє υρ fяσм α ℓσиg ∂яєαм
тнє ѕиσω ιѕ fαℓℓιиg
αи∂ тιмє ιѕ ∂яιfтιиg αωαу
✧゚・:*
Title: Three Heads are Better than One!
Username: FatHead
Character Name: Spencer Whitaker
Character Age: 15, will turn 16 within the first few days of the RP
Personality: Creative and Talented, Easily Aggressive, Loves to Draw, and a bit... Quirky.
Appearance: Messy black hair, white skin, a cowlick in the back of his hair, red bowtie, red sleeveless shirt, red shorts, red gloves and red boots. (Each piece of clothing is a different shade of red.) He also carries around a purple backpack that contains his most important personal belongings and such. He is 5' 3'', Weighs 97.5 lbs., and is rather skinny, with a large watermelon-shaped head.
Backstory: Spencer has lived all of his life in TumbleWood, up until this point. He was born there, and was planning to someday die there. He acquired a girlfriend during the eighth grade, and has had a best friend since the third grade.
Power: Flicker, but he can only move objects that are art or crafting supplies, such as pencils, empty toilet paper rolls, paint canisters, etc.
Palpad?: Yes!
Username: FatHead
Character Name: Malachi Gronin
Character Age: 16
Personality: Athletic, obsessed with Basketball and Kickball, and he loves food.
Appearance: Spiked black hair, white skin, sleeveless white T-Shirt with a yellow lightning bolt down the front of it, brown shorts, black sneakers, and mismatched socks; one of them goes up past his right knee, and the other one stays down near his left ankle.
Backstory: Malachi became Spencer's best friend in the third grade, and they have stuck together ever since then. He is the team captain of the youth basketball team, and he makes a great leader in that field. He was born in TumbleWood, but moved away up until the third grade, when he returned to his hometown.
Power: Flare, but his power freezes instead of burning.
Palpad?: Yes!
Username: FatHead
Character Name: Allie Trigson
Character Age: 15
Personality: Shy at first, but will eventually warm up to almost anybody, as well as being Creative like Spencer, and loving to paint.
Appearance: Long black hair, white skin, a strand of hair covering part of her right eye. She wears a long-sleeved purple shirt with a large pink heart on the front of it, and the shirt goes down far enough to cover her light grey shorts. She wears tall lavender leggings, and black-and-white slippers.
Backstory: Allie moved to TumbleWood at the start of the eighth grade, and fell in love with Spencer. She is now Spencer's loyal girlfriend, all will do (almost) anything for him. She was born in Canada. (Nobody really knows where TumbleWood is located, it's just... There.)
Power: Fluxer, but can only transform into cats.
Palpad?: Yes!
---
"Every day, I imagine a future where I can be with you..."
"Hxppy Thxughts."
@fathead accepted, i will get around to making the palpad now
---
I swear, I'm really trying
It just don't come natural to me to think that you'd want me for me
I swear, I'm really trying
Oh, I'm sorry, I promise, I'm doing my best
I just haven't learned how to be human as you are yet