Forum Thread
The Black Cat Art Shop
Forum-Index
→
Fanmades
→
The Black Cat Art Shop
Imalittletomuch

OFFLINE
Trainerlevel: 21
Forum Posts:
4
It is I, boiman. I have decided to collaborate with my brother, FatHead (he likes cheese), to create this wonderful Art Shop!
"Who says that Black Cats are Unlucky?"
Also, read everything in the Spoilers, or no Mac and Cheese for you.
There are a few Rules and Reminders before we begin:

Show hidden content
---
1. No Stealing or Tracing Other Customers' Artwork
2. You may choose for your Artwork to be shown Publicly in this Thread, or you may choose for it to be sent to you Privately through PM. It's all in the Form, buddy.
3. The Artist behind this Shop is FatHead, and boiman takes the Orders, as well as helping out a bit in his own special ways heh. There will be an Example of the Art Style later on, but you can find a few more on
FatHead's
Profile Page!
4. We CANNOT Draw Anime. Sorry, Demon Slayer fans. :(
5. We CAN, however, Draw Anime characters in our own Art Style!
6. Have fun and shtuff.
Examples, Midude.
And Finally, The Form to Order some Junk or Whatever.
Slots. (That means "People who have Reserved a Spot for an Artwork hehe.)

Show hidden content
---

1. OPEN
2. OPEN
3. OPEN

We can add a Waitlist, if it gets to that.
Come Again Soon! (Or Else.)
---
Username: Etty
What to draw: Etty,
my pokesona
Payment: 20k pd (+tip?)
Other: maybe I'll have you do other sonas if we all have a good time?
---
"There's something on my mind
Why is every day the feeling that I'm running out of time?
The empty summers witness as I'm drowning in the skies
Take a breath of sober freedom
As you step across the lines
Goodbye, summertime"
@Etty
Your Artwork is finished! You may send the Payment to boiman at whatever time is convenient to you! No rush!
The Artwork
---
"Hello, Old Friends."
(Drawn by me, FatHead!)
~razpberry

OFFLINE
Trainerlevel: 81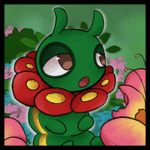 Forum Posts:
1,792

Username:~razpberry
What to Draw?:
petalliflew (fairy)
Payment?: 50 nuggets
Other?: have fun experimenting!
---
if you achieved your dreams, what's next?