Forum Thread
Honeytree: Reload page without ?scare=true
Forum-Index
→
Suggestions
→
Honeytree: Reload page without ?scare=true
MeepTheMareep02

ONLINE
Trainerlevel: 58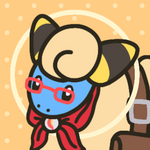 Forum Posts:
534

This is going be a bit hard to explain, so bear with me.
When you scare away a Pokemon at the honeytree, you use this link
https://pokeheroes.com/honeytree?scare=true
However, the
'?scare=true'
part of the url remains. As such, if you reload the page (e.g. to check for new pokemon) without removing that bit of the url,
you may accidentally scare away a pokemon without even getting to see what it was
. Or, if your mobile browser was closed on that page, and it reloads due to you reopening your browser, you may also accidentally scare a Pokemon.
What I'm suggesting is that the
page immediately loads back to the regular honeytree page after scaring a Pokemon
to avoid accidental scares when the page is reloaded.
https://pokeheroes.com/honeytree
Something similar can be seen in trades with Leah, there's a url for each trade that causes the exchange (below is the magnetic bait trade)
https://pokeheroes.com/mermaid?exchangeItem=38&exchangeConf=598
but the page immediately loads again with the below url to display the confirmation message (this displays the
'Thank you for the exchange! I will put the fish in my aquarium, hihi!'
message)
https://pokeheroes.com/mermaid?exchangeSucc&aquaFish
---
Thread has received Mod approval and is now open for discussion.
---
Credits for avatar to
~Cookie~
Kitties! Riako has no idea what he unleashed with that update🙀
Collecting Lovely Larvesta and Silly Seel Plushies~
Looking for Ice Gems and Flying Gems
here!
Help me hunt a Shiny Articuno!
(You can win your own non-shiny Articuno in return)
Breeding events for the cause
here!