Forum Thread
Palpad Glitches
Forum-Index
→
Bugs/Complaints
→
Confirmed Bugs
→
Palpad Glitches
[Small bugs]
[1]
Before this, the book would get darker when I got a message every once in a while, but now it won't work at all. Explanation:
Basically, when a friend of mine sends me a message through palpad, the little red book doesn't glow. Ive randomly clicked on palpad before to have 7 or 8 messages from a while ago that I didn't even know were there. I got on my phone and even used my school's chromebook to make sure it wasn't like a hardware thing and the same thing occurs on each device. The browsers on my phone and the computers are different, so I figured it didn't have anything to do with my browser either.
[Got the one from 9 seconds ago to send me a few messages so I could show it xD]
[2]
(I counted about a few times to get a constant number) About every 9-10 seconds the palpads on my palpad will glitch around, it changes the layout and places of where they are in the list. When it does glitch it shows everyone as offline, it lasts for only a second or so but I only reported this as I never know when people message, and sometimes I accidentally click on a random person's chat as it glitches the chats around for a moment.
Is anyone else having these little things happen? :o
~UmbreonLover~

OFFLINE
Trainerlevel: 52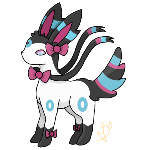 Forum Posts:
1,090

Yeah this happens to me sometimes too
---
I noticed this happening to me yesterday as well when I misclicked on the palpad while trying to go to the Notifications and I had a message from two days earlier. As I exchanged a couple of messages with that person, the palpad in the userbar never lit up to notify me of new messages.
For me, the 'glitching' only affects the first four people in the list.
---
It happens to me too!
---
Give me nuggies, to prove me wrong, to wash the memories clean~
Shiny shopppppp!
here's our shiny shop!
Just post things you are selling and using BB code like mine!!!