Forum Thread
KotLC Keefe Fanclub (VIP Section!)
Forum-Index
→
Fan Clubs
→
KotLC Keefe Fanclub (VIP Section!)
RoyalUltima

OFFLINE
Trainerlevel: 27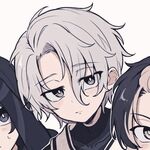 Forum Posts:
171
Welcome to the KotLC Keefe Fanclub's VIP section!
This is where you can socialize, have more expansion of the rules, so you can talk about things that are KotLC-related, not just Keefe related! You can talk about your favorite character, simp, ship, etc!
Only Members from
this
can chat here!
Rules are:

Show hidden content
---
1. All PH rules Apply
2. Make it Me-Friendly (ex. no swearing, cussing, foul language, unless it is censored)
3. This is a Fanclub for Keefe, SoKeefe, and KotLC - any other topic will make me go into my Beast/Rage form (you don't want to see this!)
4. Have fun and make friends!
Have fun!
---
❀𖤣𖥧𖡼⊱✿⊰𖡼𖥧𖤣❀
✿ Where there are bees there are flowers ✿
✿ And wherever there are flowers, there is new life and hope ✿
✿ And wherever there is new life and hope, there is love, and someone there ✿
❀𖤣𖥧𖡼⊱✿⊰𖡼𖥧𖤣❀