Forum Thread
The Radio Cult! [Alastor/Hazbin Hotel]
Forum-Index
→
Fan Clubs
→
The Radio Cult! [Alastor/Hazbin Hotel]
Luciel_Hughes

OFFLINE
Trainerlevel: 47
Forum Posts:
344

The Radio Cult!

Welcome to the show! I can promise you that this will be very entertaining!

This is a Cult / Club / Group made for fans of Alastor from the potential* series, Hazbin Hotel.


*Hazbin Hotel has a pilot episode out on YouTube, but there is no second Episode or news of the series continuing for sure. Though the creators are very interested in doing such, funding is an issue at the moment.





Thank you to TheReckoningCatrina for the amazing banner!

Now, you don't need to actively be a fan of the Radio Demon himself, or Hazbin, but there will be perks if you are! You see, I am planning on holding small contests and competitions for prizes among our ranks. For things such as a handful of PD, all the way up to summon items and shiny pokemon!

These contests may be trivia, recruitment, or merely #-sharing. All easy things to do, and all to generate good morale and interest in our Cult!

Cult Announcements will be made in future posts here, and discussion is welcome! Make sure you stay tuned for events and news by Subscribing! This thread is a place for us to gather, other than the group chat, and to post content that the chat limits! So get out there and have a ball!

This is TheRadioDemon Signing off!

Confirmed Cult Members

Show hidden content
---
Contact to Join

Show hidden content
---
If you would like to join our little Cult, please contact either me,
TheRadioDemon
, or
ErrorTheGamer
via palpad or PM. Please include that you would like to join our Cult, and any other special details you would like us to know. Please do not spam us with messages though, as we are both busy people and do not have much free time to be online.
Active Events!:
♥ Hashtag / Recruitment Contest ♥
---
23 - Capricorn - Masc Enby - Coffee Addict



ErrorTheDragon

ONLINE
Trainerlevel: 48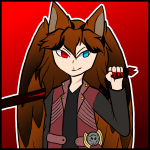 Forum Posts:
2,255
So-

I am the.. "amazing" co-leader and i'll probably edit this post if i have something more important/impactful to say. I'm tired, alright?
damn vacuum hitting me for no reason
And i promise that i don't bite. Much.
---
Smol Undead Bat/Dragon Person.
Completely obsessed with shinies.
Loves soft things & cuddles.
The sig artwork was drawn by me, of my Sona!
Avatar also by me, of my Sona!
Luciel_Hughes

OFFLINE
Trainerlevel: 47
Forum Posts:
344

It seems like we only have one person here, other than Error and I, who's active. (Not that it's an issue). But I want to liven things up a bit. Make things more... entertaining, for us.

So, I'll be hosting a little contest! Two, actually. I've decided to combine the # and recruitment contests. There will be two winners total. Who ever gets the most people to join, and shares the #RadioCult, will be entered to win a grab-bag of goodies from the following items.
Just make sure that the people you invite include your username when asking to join! That way you can get the credit for the recruitment. Also, new members that have just joined are also allowed to participate in the contest! The more the merrier!
---
23 - Capricorn - Masc Enby - Coffee Addict



Kitsune2168

OFFLINE
Trainerlevel: 14
Forum Posts:
5