About Me
Will. 18. He/Him. Autist. Brit. INTJ 5w6 514. Sinnoh & Alola supremacist. LibSoc. Determinist Absurdist Philosopher. Asexual. Spiritually a cat. Feel free to Friend Rq.
Python coder; artist; debate bro; scientific, philosophical and political research enthusiast, mathematics and problem solving enjoyer; an encyclopaedia for my interests, but utterly useless irl
I'm quite socially inept and anxious, so I may be online, but not answer messages immediately. It's nothing personal, I'll get around to messaging when I can.
Discord: Barely Functioning Idiot #5807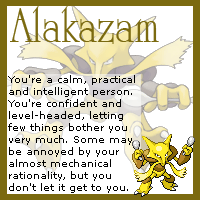 Favourite
Movie: Scott Pilgrim Vs The World, Silence of the Lambs, Fight Club
Show: IT Crowd, The Good Place, Community, Horrible Histories/Ghosts, Clarkson's Farm, Friday Night Dinner, Breaking Bad, Cobra Kai
Game Show: Just A Minute, Countdown, Beat The Chasers
Animated Show: Bojack Horseman, Invincible, Midnight Gospel
Anime: Monster, Cowboy Bebop, Steins;Gate, Gurren Lagann, Assassination Classroom, Naruto / Shippuden, Hunter x Hunter, Serial Experiments Lain, Dr Stone, Mob Psycho 100
Manga: Any manga by Urusawa, Oyasumi Punpun, Yotsuba&!, Dragon Ball, Opus
Musicals: TGWDLM, Nightmare Time, Black Friday, Something Rotten, Hamilton, Be More Chill, Inside
Pokémon Game: Pokémon Ultra SM, Pokémon B&W 1&2, Pokémon D/P/Pl
Pokémon Gen: 1, 4, 7
Pokémon Type: Fire!, poison, flying (I like bird 'mons :3), ghost, dark
Pokémon: Mega Charizard X, Umbreon, Flareon, Gengar, all gen 4 starters, Decidueye, Dialga,Ash Greninja, Mashadow, Mimikyu, Mega Lucario, Blaziken, Arceus, Luxray, Staraptor, Alolan Marowak, Tapu Koko, Toxtricity
Game franchises: Pokémon, Persona, Danganronpa, Sonic, Smash Bros, Zelda, Mario
Other games: Undertale, YTTD, Smile For Me, Slime Rancher, Animal Crossing New Leaf, Spider-Man PS4
Books: most political or philosophical writings, Edgar Allen Poe, Stephen King, George Orwell, Fahrenheit 451, An Inspector Calls
Band: Ewy, Radiohead, Weezer, Bach, The Beatles, Nirvana, The Smiths, Seb Lowe, Deep Purple, S3>< Pistols
Drinks: black americano, espresso, mocha, coffee frappé, toffee latte, iced latte, Irn Bru, Fanta, 7 up
Colour: red, orange, purple

Game Records

Trainer ID:
#567879358
Registration:
05/09/2022
(2 Months ago)
Game Time:
131:02 Hours
Total interactions:
820,097
Money:
1,257,326

Starter Pokémon:

Empoleon
Feeds
IMPORTANT NOTICE
On major social break right now due to real life situations making replying virtually impossible at the moment. I still care about everyone here though, it's nothing personal :')))
Last Visitors
Visitors
SunnyDelite
Sun, 27/Nov/2022, 19:10
Purgatory
Sun, 27/Nov/2022, 13:47
champ1509
Sat, 26/Nov/2022, 12:43
partizanovac
Sat, 26/Nov/2022, 09:10
SurfsideJam
Fri, 25/Nov/2022, 00:55