Hi guys, welcome to my profile!
Welcome to my profile! Feel free to add me to your friends list, I'll add you back as soon as I can, but I'm not very good at holding conversations. None of my pokemon are for trade or for sale, and that's the end of that.(But I might send gifts) If you interact with my pokemon, I'll interact right back. Thanks for stopping by and taking the time to read this!~


Show hidden content
---
Random Stuff About Me!
-I'm straightforward-
-I like dark colors, like Black, dark reds, greens, and blues-
-I listen to Fall out boy, Panic! at the disco, Melanie Martinez, Halsey and way to many others to list-
-I like Marvel-
-I read a lot-
-I'm really into horror-
-I draw a lot, just don't post much-
-I love Dear Evan Hansen-
-I watch some anime o3o-
-INFJ-
-Capricorn-
-Favorite pokemon are Typhlosion, Zorua,and Pyukumuku-
-Favorite type is ghost-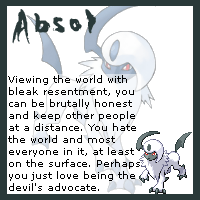 ♥
Badge Showcase
| | | | | | | | | |
| --- | --- | --- | --- | --- | --- | --- | --- | --- |
| Set #1 | | | | | | | | |
| Set #2 | | | | | | | | |
| Set #3 | | | | | | | | |
| Set #4 | | | | | | | | |
Last Visitors
Visitors
DarkSpark
Wed, 25/Nov/2020, 04:32
Blink
Fri, 20/Nov/2020, 12:15
SaltySquid
Sat, 07/Nov/2020, 03:04
Wonderlandwitch
Wed, 28/Oct/2020, 22:10
purr
Fri, 23/Oct/2020, 00:59
Contact
Last Action
Watching the Rumble Overview
(1 Day ago)
Game Records

Trainer ID:
#339087945
Registration:
19/01/2015
(5 Years ago)
Game Time:
166:53 Hours
Total interactions:
134,691
Money:
142,155

Starter Pokémon:

Typhlosion

✧・゚: *✧・゚:*
Thanks for stopping by! Come back soon ♥
᠃ ⚘᠂ ⚘ ˚ ⚘ ᠂ ⚘ ᠃