About Me
Will. 19. He/Him. Autist. Brit. INTJ 5w6 514. Sinnoh & Alola supremacist. LibSoc. Determinist Absurdist Philosopher. Asexual. Spiritually a cat. Feel free to Friend Rq.
Python coder; artist; debate bro; scientific, philosophical and political research enthusiast, mathematics and problem solving enjoyer; an encyclopaedia for my interests, but utterly useless irl
I'm quite socially inept and anxious, so I may be online, but not answer messages immediately. It's nothing personal, I'll get around to messaging when I can.
Discord: Barely Functioning Idiot #5807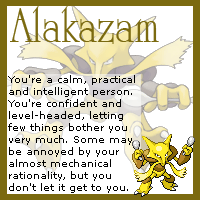 Favourite
Movie: Scott Pilgrim Vs The World, Silence of the Lambs, Fight Club
Show: IT Crowd, The Good Place, Community, Horrible Histories/Ghosts, Clarkson's Farm, Friday Night Dinner, Breaking Bad, Cobra Kai
Game Show: Just A Minute, Countdown, Beat The Chasers
Animated Show: Bojack Horseman, Invincible, Midnight Gospel
Anime: Monster, Cowboy Bebop, Steins;Gate, Gurren Lagann, Assassination Classroom, Hunter x Hunter, Serial Experiments Lain, Dr Stone, Mob Psycho 100
Manga: Any manga by Urusawa, Oyasumi Punpun, Yotsuba&!, Dragon Ball, Opus
Musicals: TGWDLM, Nightmare Time, Black Friday, Something Rotten, Hamilton, Inside, Ride The Cyclone
Pokémon Game: Pokémon Ultra SM, Pokémon B&W 1&2, Pokémon D/P/Pl
Pokémon Gen: 1, 4, 7
Pokémon Type: Fire, poison, flying, ghost, dark
Pokémon: Mega Charizard X, Umbreon, Flareon, Gengar, all gen 4 starters, Decidueye, Dialga, Ash Greninja, Mashadow, Mimikyu, Mega Lucario, Blaziken, Arceus, Luxray, Staraptor, Alolan Marowak, Tapu Koko, Toxtricity (I know, I sound like a nine y/o boy 🤦‍♂️)
Game franchises: Pokémon, Persona, Danganronpa, Sonic, Smash Bros, Zelda, Mario
Other games: Undertale, YTTD, Smile For Me, Slime Rancher, Animal Crossing New Leaf, Spider-Man PS4
Books: most political or philosophical writings, Edgar Allen Poe, Stephen King, George Orwell, Fahrenheit 451, An Inspector Calls
Band: Ewy, Radiohead, Weezer, The Beatles, Nirvana, The Smiths, Seb Lowe, Rainbow
Drinks: black americano, espresso, mocha, coffee frappé, toffee latte, iced latte, Irn Bru, Fanta, 7 up
Colour: red, orange

Game Records

Trainer ID:
#567879358
Registration:
05/09/2022
(6 Months ago)
Game Time:
216:34 Hours
Total interactions:
1,216,383
Money:
4,729,875

Starter Pokémon:

Empoleon
Feeds
IMPORTANT NOTICE
On major social break right now due to real life situations making replying virtually impossible at the moment. I still care about everyone here though, it's nothing personal :')))


If you need to contact me, send a message request to Terry Silver #5807 on Discord. I'm not always prompt in my replies, but there's far more chance of me reading messages there rather than here atm. The use of said account is social only, no begging or trade requests. Happy to talk to anyone as long as we've had some sort of interaction on PH in the past, but please do let me know who you are otherwise I most likely won't respond.