Forum Thread
Shinies on the honey tree.
Forum-Index
→
Help
→
Answered
→
Shinies on the honey tree.
OrcaNinetales

OFFLINE
Trainerlevel: 50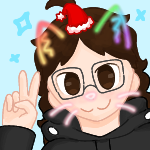 Forum Posts:
503
There would be a shiny drawing of the pokemon as well as the text would have a star: 'Look! A [pokemon] ⭐ is eating your honey!'
---
On hiatus, slowly getting back into it

Check this cool thing out
And no, it's not a rickroll :>

Message me for how to do it lol

Here's a few positive quotes c:
"You are braver than you believe, stronger than you seem, and smarter than you think."
"Be who you are and say what you feel, because those who mind don't matter, and those who matter don't mind."