🌻 About me 🌻

Chaslyne
Female of 25 from USA


Step mom & mom first. Pokemon fanatic second...sometimes those roles switch 😜👌🌻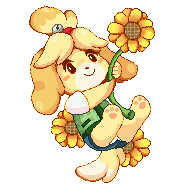 I am not a very talkative person. Period. I'm not all that friendly either. I suffer from severe depression and anxiety. I'm divorced. Surprisingly creative. I enjoy painting, baking and cooking. My animals are my only joy in life. I'm an American Pitbull Terrier mom and breeder. Puppies make the world go 'round.



Don't ask for Pokemon not in my extra/for sale boxes or to borrow Pokemon, nuggets, PD, etc.
DO. NOT. BEG.
---
🌻 Collection Section 🌻



3
1/50⠀⠀ ⠀⠀⠀2/50⠀⠀⠀⠀ ⠀2/50
Game Records

Trainer ID:
#685801743
Registration:
21/12/2017
(5 Years ago)
Game Time:
1590:54 Hours
Total interactions:
2,115,204
Money:
2,186,573

Starter Pokémon:

Torterra








Shiny Hunt
Chydizzy is currently hunting
Spheal
.
Hunt started: 23/11/2023


Chain: 125
2

🌻 Art Made by others🌻

Show hidden content
---