Forum Thread
♡;The Shade Of Stardust;♡ (SIGN UPS)
Forum-Index
→
Roleplay
→
RP Sign-up
→
♡;The Shade Of Stardust;♡ (SIGN UPS)




♡;The Shade Of StarDust;♡



♡ About this RP (Kinda like a summary but better) ♡:


Show hidden content
---
It was spring, flowers were blooming. Everyone was going outside more often. Until a war had happened. They took half the city. Almost 1,000 people had died.

But…

A teenager found something on the ground… It was a speck of StarDust. StarDust has many powers so it's dangerous. You have to beware. But, what did that girl do? She took it home with her. She kept it for many years. Until she passes it on to a 10 year old girl.

The 10 year old girl kept it, too. She was told never to use it. But, she didn't listen. She took it out of the case and looked at the beauty of the StarDust. She admired it. She didn't know about the powers of it.

So, she decided to hit the piece of StarDust, with a gentle push the StarDust formed a space ship/ship. She rode in it, and…

You'll never guess what happened…




★ R U L E S ★

Show hidden content
---

-This isn't a romance type Roleplay, so NO romance shall be included.
-If I reject, I reject. You edit your form? Don't care! I don't re-do my decisions, so respect that.
-On my blocklist? You're blocked from my RPs, too! Sorry!!
-You can only use 3-5 characters
-don't control any other peoples characters, even with permission.
-Don't goof off in the RP.
-Be ACTIVE in the RP. I don't like when my RPs become inactive.
-Be patient for me to ACCEPT your form or REJECT
-Use the CORRECT form or I will ignore it!
-Don't be rude or mean. Or you might be kicked out of the Roleplay.
-Don't GOOF off in the PalPad
-Must be mature enough to handle the Roleplay




★ F O R M ★


[center][b]Username:[/b]

[b]Name:[/b]

[b]Age:[/b]

[b]Gender:[/b]

[b]Sexuality:[/b]

[b]Personality:[/b]

[b]Appearance:[/b]

[b]Abilites:[/b]

[b]Weapons:[/b]

[b]Likes:[/b]

[b]Dislikes:[/b]

[b]PalPad?:[/b] Sorry! Has to be a YES

[b]Password:[/b]

[b]Other:[/b]

[b]Questions:[/b]

[b]Any concerns?:[/b][/center]



My forms will be added soon below ⬇️



Dividers ⬆️ aren't mine
---
ೄྀ🌠࿐ ˊˎ"Forever shall the snow fall." ೄྀ 🌠࿐ ˊˎ
* ˚ ✦| ︶꒦꒷♡🌟♡꒷꒦︶ |* ˚ ✦
"Forever love in our broken hearts."
AceSpadeAS

ONLINE
Trainerlevel: 24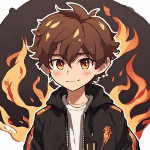 Forum Posts:
118
Username:Yeeeeet108

Name:Ace Spade

Age:15

Gender:Male

Sexuality:Straight

Personality:Calm and friendly

Appearance:A young short boy with brown hair brown eyes and wearing a black jacket and hat with fire image and short pants with a skull like death's scythe at his back

Abilites:
Gaster blaster

Bone manipulation

Weapons:Skull Death's scythe

Likes:Comics

Dislikes:being alone

PalPad?:of course yes Sorry! Has to be a YES

Password:Stardust

Other:no

Questions:no

Any concerns?:no
---
Once you felt desparate or negative thinking it will looked like you just fell but all you need is Positivity and
Determination
to help you get up again and kept moving
My pfp from FatHead
~ It's A Beautiful Day ~
@Yeeeet108 Sorry! You may edit!
The form is supposed to be likes this:
Username:
AlicaDragon~
And all that. It's not ALL bold! Password is whatever. If I didn't tell you the password do whatever! Don't ask, "What is it?" You should have put that in QUESTIONS!
---
ೄྀ🌠࿐ ˊˎ"Forever shall the snow fall." ೄྀ 🌠࿐ ˊˎ
* ˚ ✦| ︶꒦꒷♡🌟♡꒷꒦︶ |* ˚ ✦
"Forever love in our broken hearts."
MooseTitan9237

OFFLINE
Trainerlevel: 15
Forum Posts:
38
AceSpadeAS

ONLINE
Trainerlevel: 24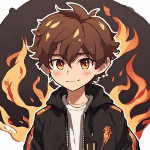 Forum Posts:
118
RoyalUltima

OFFLINE
Trainerlevel: 27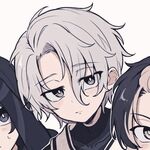 Forum Posts:
171
WIP
Username: RoyalUltima

Name: Kaori Kim

Age: 14

Gender: Female

Sexuality: Straight

Personality: Kaori is very shy, often hiding behind her long black hair. She doesn't speak much, and is more often seen observing rather than participating. She is rather anti-social, and has social anxiety. Kaori also does a rather good job of hiding her emotions, and she rarely shows them. Not even to her friends.

Appearance:

Abilites:

Weapons:

Likes: Kaori likes being alone, black 'things',

Dislikes:

PalPad?: Yes~~ Sorry! Has to be a YES

Password:

Other:

Questions: One quick question~ will the plot be told in the RP?

Any concerns?:
---
❀𖤣𖥧𖡼⊱✿⊰𖡼𖥧𖤣❀
✿ Where there are bees there are flowers ✿
✿ And wherever there are flowers, there is new life and hope ✿
✿ And wherever there is new life and hope, there is love, and someone there ✿
❀𖤣𖥧𖡼⊱✿⊰𖡼𖥧𖤣❀
🌸 My Forms 🌸
(Don't be mad that I'm using more than 5 characters)

Show hidden content
---
Username: AlicaDragon~

Name: Noro Majore

Age: 17

Gender: Male

Sexuality: Gay

Personality: Kind/brave/smiley

Appearance:
White hair, orangish red eyes. Umbrella, adorable tie and dark blackish outfit. (JUST CLICK ON APPEARANCE)

Abilites:

✨ Healer ✨
He uses this ability to heal the hurt. He only does it to the good guys, not the bad guys who have hurt them. He puts his hand around their stomach and it heals the parts that have been hurt. He doesn't like any of his friends to feel pain. Nor does he want his family to feel pain, he wants the bad guys to die and never come again.

✨ Electric Sword ✨
He uses this sword to electrocute the people he has be fighting. It makes them feel pain and then suddenly they can die and go to hell. Sometimes it works and sometimes it doesn't work at all.

✨ Umbrella Swing ✨
He swings around with his umbrella and it makes stormy weather. Such as tornadoes. Those tornadoes are regular ones, they're ones that kill with just a little touch. It's a very dangerous move he has because he has to try not to get into the tornadoes so he has to run away quickly. His team has to run, too.

Weapons: None.

Likes: Cats, dogs

Dislikes: bullies

PalPad?: I'm making the PalPad, sooo… of course.

Password: Bagel~~

Other: Shoes

Questions: PIZZA?

Any concerns?: I have no concerns in my RP
I will edit this later, because this one character took a whole HOUR. So, I'm taking a break.
---
ೄྀ🌠࿐ ˊˎ"Forever shall the snow fall." ೄྀ 🌠࿐ ˊˎ
* ˚ ✦| ︶꒦꒷♡🌟♡꒷꒦︶ |* ˚ ✦
"Forever love in our broken hearts."