Forum Thread
Mega Able Wonder Trade
Forum-Index
→
Suggestions
→
Rejected
→
Mega Able Wonder Trade
Therizinosaur

OFFLINE
Trainerlevel: 30
Forum Posts:
563
Therizinosaur

OFFLINE
Trainerlevel: 30
Forum Posts:
563
Queen_Pumpkaboo

OFFLINE
Trainerlevel: 31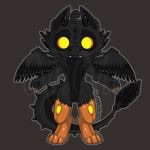 Forum Posts:
1,367
I thought of this before when mega Pokemon were beginning to become more common, at least certain species, and how it'd be a way to trade them.

However doing it by wonder trade I don't think many people would do. Wonder trade is a way, I feel, to get rid of a bulk of Pokemon at once. For example, getting rid of Pokemon and their evolutions from past shiny hunts. Chances are, not many people will have a bulk of different mega Pokemon, at least not a bulk they're willing to get rid of.

All I imagine are a ton of mega Blaziken being traded back and forth, as a lot of people have the mega evolved version of it, and not much else. Mega Pokemon are better off being traded and viewed in the Global Trade Station, to verify if they really want to exchange their mega for the one offered.

As for stones, why would you wonder trade a mega stone for a mega stone? You're still left with one mega stone. So I don't understand the benefit there unless I'm not understanding that part of the suggestion.
---
Already suggested
here
---
If you can read this, you know how to read.


Trick and Treat art by Podunk