Intro
Julie - she/her -

Aquarius (☀️/🌙)

,

Virgo (Rising)

- GrayAro +

Ace

-

Autistic
---

Been into Pokemon since playing
Yellow Version
. Big favorite Pokemon is usually Lucario/Riolu, but also like any fox based critters as well. A shy artist in terms of sharing work online in fear of art theft; can be a bit angsty. OC box's self explanatory: Pokemon based off my characters. I can't say I'm nice as that depends on how you treat me. When it comes to viewpoints, I can be a bit critical but I try my best to be explain thoroughly if needed.
---
Currently on hiatus. Do NOT randomly add me. If I have you blocked for any reason, please respect that. Don't send private trades or ask why by PMing others.
---

Avatar
: Lucky-Star
Intro: Pt.2
Languages: English is my native but I also know a bit of Spanish as well as Japanese

Local Time: -6hrs of server (-5hrs during DST)

Please treat me the same way you'd like for me to treat you. If I don't feel comfortable with you communicating with me, don't take it harshly as I'm still just weary of folks contacting me regardless. If I have you blocked, it's for a good reason and I'm allowed to withdraw such information so please don't ask others why I did so.

I also ask that you don't add me to your friends list as I have those notifications set to off. I do check on occasion and it makes me irritated that folks still do without asking first. Same goes for those that have the default avatar: I'm also a bit finicky when those players add me. Please ask to add me first before doing so. For me, it's just a way of letting me know. If I say no, please remove me.

I also try to send a random plush with some sort of a message since I get weary about bots doing that too..
---
Full Policies are on the first post of Diary
Game Records
Trainer ID:
#870121896
Registration:
03/11/2020
(1 Year ago)
Game Time:
270:15 Hours
Total interactions:
298,558
Money:
159,675

Starter Pokémon:

Blaziken
Feeds




















Contact
Last Action
Browsing through notifications
(4 Days ago)
Some Special Interests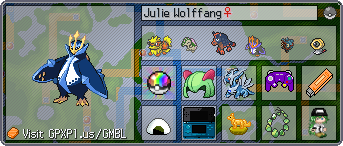 Aside from Pokemon, hobbies include reading & drawing. Native language is English but have been trying to learn Japanese during my off time. Supernatural beings in general are a interest recently, mostly vampires and werewolves. Sometimes it varies between which one's my main. I do have a longer list of other minor interests but I will usually go crazy over informational sharing of the ones listed above.
---


Feel free to send an aura boy, a personal fav, or a plush I don't have.


IMG: My Trinkets + Trainer Card from GPX+
Badge Showcase
| | | | | | | | | |
| --- | --- | --- | --- | --- | --- | --- | --- | --- |
| Set #1 | | | | | | | | |
| Set #2 | | | | | | | | |
| Set #3 | | | | | | | | |
| Set #4 | | | | | | | | |