Game Records
Trainer ID:
#7445771
Registration:
29/07/2016
(6 Years ago)
Game Time:
4960:10 Hours
Total interactions:
11,408,772
Money:
8,708,360

Starter Pokémon:

Typhlosion








Feeds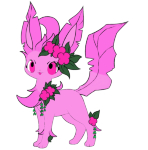 Though I like several of the changes that have been made over the last two months, it would still be nice for
these
problems to be FIXED and these QoLs to be implemented.
It's the one thing I HATE about this game. Several of these have been here since I started playing six years ago. It's really sad that things the majority of the community has repeatedly loudly and clearly said that they want changed/improved don't get done.
BROKEN games are NOT fun. And honestly, I feel like the only reason people still play this game is because it's a way to pass the time, procrastinate, or keep in contact with their friends.
I returned for the Marshadow chance, and had hoped I could bring myself to stick around. But I just can't keep giving my time to a game that doesn't care about its userbase's desires. May or may not check back in. All depends on if this site actually improves or not.
❤️ About Wildfyre ❤️
🌸❤️🌸🧡🌸💛🌸💚🌸💙🌸💜🌸

Samantha She/Her 12-16
BLM||Trans/LGBT Rights||Police Reform
Furry, Gamer, Reader, Writer, Wolf-Lover
Demi-Ace Bi Polyam with Anxiety and Depression

Discord: Wildfyre#1255
Facebook: Samantha Bishop (Rhoslyn Razora)
Instagram/Twitter: @WildfyreBishop

Diablo III: Wildfyre1003#1967 (Active til 10.30.22)
Genshin Impact: Wildfyre 637022110 (Sporadic)
SWTOR: (Server: Star Forge Name: Rhoslyn Galaar) (Sporadic)

Archive of our Own + Quotev + WattPad

Works Include:
Angel of the Shadows (Pokemon) (13 Chapters)
Glory Days (Yu Yu Hakusho) (0 Chapters)
Guardians of Sanctuary (Diablo III) (3 Chapters)
Selkie Spirit (Final Fantasy) (0 Chapters)
Sly Fox Detectives (Pokemon, Gijinka Eeveelutions) (0 Chapters)

Journal + My Specials
Quick Links + Site Map
Guides by: Bishop + Wildfyre
Gift Log + Plushie Collection

🌸❤️🌸🧡🌸💛🌸💚🌸💙🌸💜🌸
Contact
Last Action
Reading a forum thread
(26 Days ago)