Paint my World in Colour
╔══════ ≪ °❈° ≫ ══════╗



тsυкσ | ιηғρ | тнεү/тнεм | ☼ℓεσ | ☾ αqυαяιυs



╚══════ ≪ °❈° ≫ ══════╝
Hi there! I'm Tsukoyomi, but you can just call me Tsuko. I'm fine with most nicknames you give me, but please don't refer to me with any female pronouns. I don't reply to messages that start with "Hi", " Yo", and "Wassup" Etc., please get to the point I have a life of my own, but I am always happy to help anyone in need. My brain works differently than most people, so I can be very slow on the uptake
City of Freedom
┌─── ・ 。゚☆: *.☽ .* :☆゚. ───┐



¢υяяєит ρℓαуℓιѕт: є∂єи вяαιияσт



nσw plαчíng:

Xx

ѕυиℓιт ѕмιℓє - єνє

└─── ・ 。゚☆: *.☽ .* :☆゚. ───┘
⁺˚*•̩̩͙✩•̩̩͙*˚⁺‧͙⁺˚*•̩̩͙✩•̩̩͙*˚⁺‧͙⁺˚*•̩̩͙✩•̩̩͙*˚⁺

1:05 ────|──────── 4:01

вєαѕт σf тнє єи∂ - α∂αм |◁ II ▷|αωαкєиιиg мутн - є∂єи

▁ ▂ ▃ ▄ ▅ ▆ █ 100 %
Viewing the Earth From the Moon
нσαя∂ιиg:


Credit:

Show hidden content
---
Hades Alone Gif (Paint my World in Colour Header)by
myboycowboy
on Tumblr
Scorpio Kardia Gif (Life Ends Sooner or Later Header) by
eduyptulamiinor
on Tumblr
Pegasus Tenma Gif (Vivid Eyes, Broken Skies Header) by
seintonogallery
on Tumblr
Lyrics from Promise Swords by Knights
Mondstat Gif (City of Freedom Header) by
boozerman
on Tumblr
Tsukinaga Leo Gif (Viewing the Earth From the Moon Header) by
nagimitsus
on Tumblr
⋘ ──── ∗ ⋅◈⋅ ∗ ──── ⋙
Music by Adam, Eve, and Eden
Eden:
Adam:
Ran Nagisa (Suwabe Junichi)
Saegusa Ibara (Osaka Ryota)
Eve:
Tomoe Hiyori (Hanae Natsuki)
Sazanami Jun (Uchida Yuuma)
Setlist
Trap For You - Eve
Faith Conquest - Eden
Sunlit Smile! - Eve
The Beast of the End - Adam
Awakening Myth - Eden
⋘ ──── ∗ ⋅◈⋅ ∗ ──── ⋙
Narukami Arashi Signature Gif by
zyglavis
on Tumblr
Signature Lyrics from Silent Oath by Knights
Narukami Arashi Icon by
ensambleicons
on Tumblr
Game Records

Trainer ID:
#143074348
Registration:
10/03/2014
(6 Years ago)
Game Time:
1122:32 Hours
Total interactions:
73,754
Money:
733,956

Starter Pokémon:

Venusaur
Feeds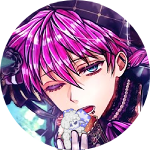 Courage is doing something you're afraid of. You can't have courage unless you're scared. But Hope will always be the little voice you hear whisper "maybe", when it seems the entire world is shouting "no!", So shine bright, Light is precious in this dark world. Because Friendship is born whenever someone says "What! You too? I thought I was the only one!"
Contact
Last Action
Reading a forum thread
(7 Hours ago)
Life Ends Sooner or Later

┌─────── ∘°❉°∘ ───────┐
ʀᴘ ɪɴғᴏ

└─────── °∘❉∘° ───────┘
Style: Semi-Lit/Lit
Languages: English, basic French and Japanese
Experience: 6 years
RP Examples: (Lit) (Semi-lit) (Lit) (Semi-lit)

All fandom specific interests can be found on my Carrd
Vivid Eyes, Broken Skies
"вєуσи∂ тнє ∂σσя уσυ'яє нєα∂ιиg тσωαя∂ѕ
иσ мαттєя ωнαт αωαιтѕ υѕ
ιт'ℓℓ вє αℓяιgнт"

➺
Carrd
➺ Easily emotional and a bit of a crybaby
➺ Suffers from ADD and Anxiety
➺ Gets sick often
➺ Socially awkward ball of anxiety
➺ Proficient in art but only actually good at writing
➺ Full of dichotomies
➺ Only here for the RPs
➺ Please don't ask if I'm okay. I'm not, but one day I will be