Party
Pkmn
Name
Level

EXP

/

EHP

Persephone
(Mega Spring Ampharos)
SHINY
1,834
2,799,120 / 12,060,471
O Fortuna *1OS*
(Shaymin)
SHINY
2,852
11,627,602 / 29,206,848
Marionette *1st OS*
(Mimikyu)
SHINY
582
18,886 / 1,017,919
Legerdemain *1st OS*
(Mega Giratina)
SHINY
660
81,828 / 1,635,976
Creamsicle *2nd OS*
(Heartomb)
SHINY
391
294,516 / 459,817
Ren
(Mega Banette)
SHINY
749
90,037 / 1,348,201
gone, gone, gone
I don't really come on this site anymore. But if you want to reach me, my Twitter and Tumblr are both linked and are great places to find me at. I'm active on both.
I do pop in periodically, and if you're someone I used to talk to a lot, you're welcome to DM me for my Discord. It might be months but I'll probably reply eventually!
Take care of yourselves, friends. <3
Shadows dream of endless fire,
Flames devour and embers swoop,
One will light the Nightmare Lantern,
Call and serve in Grimm's dread Troupe
thanks to kuroo for pinion in my avatar!!
Shiny Hunt
Noir is currently hunting
Mawile
.
Hunt started: 21/05/2018


Chain: 3,550
89

32

0


Game Records

Trainer ID:
#191886124
Registration:
08/01/2016
(6 Years ago)
Game Time:
2078:58 Hours
Total interactions:
2,438,073
Money:
454,675

Starter Pokémon:

Sceptile






Feeds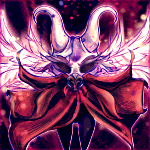 I periodically come back here just to let some of you know that I think about you often.
I hope you're well.
I hope life is treating you good.
I hope that you're succeeding at everything you want to.
And most importantly, I hope you know that just because I'm bad at remembering to stay in touch, and am more of an absent friend, I've not forgotten you.
Take care of yourselves.