Party
---
This Users Party is empty.
---
Shiny Hunt
Nagalia is currently hunting
Rattata
.
Hunt started: 12/10/2021


Chain: 6
0

Naggy's To-Do List
*** If I owe you something, and you don't see it on this list, message me! I promise, I will pay you back. It just might take a little. Feel free to message for updates on the re/payment if you're worried. ***

1) Complete PokeDex 1
2) Alphabet Soup (Eternally screaming EEEE-)
3) Obtain Ditto
4) Sanity flown away. (RIP Me.)
5) Max BerryDex (0/66?) (WIP: Cheri- 45/99)

* TBD *

Boop! You've lost the game!
Last Visitors
Visitors
Skippy
Wed, 13/Oct/2021, 22:06
Fomantis291
Wed, 13/Oct/2021, 21:22
joellaasc231
Wed, 13/Oct/2021, 05:58
SwampFall
Tue, 12/Oct/2021, 22:58
FluffyStar
Tue, 12/Oct/2021, 06:24
Game Records

Trainer ID:
#868258671
Registration:
23/04/2021
(5 Months ago)
Game Time:
56:19 Hours
Total interactions:
72,454
Money:
39,045

Starter Pokémon:

Venusaur
Feeds
Second Shiny Ponyta at egg number 48. What are the chances of getting my next shiny at egg 49? (Also, RIP me. I just spent my Pokedollars on upgrades to my berry farm.)
Huh? My Info? How about Nope!
Hello, my name is Nagalia, although my friends joke around and call me Naggy.
I don't play consistently, but I can promise that if you get around to visiting my Pokemon, I'll visit yours. If, for some strange reason, you want to talk, PM's are always open. Just... try not to spam me, please?
Currently, I mostly goof off when online with Combee breeding and Berry Farming, but I also try to do the Dream Mall activities because of how fun it is to send plushies to people with, what I hope are, cute inspirational messages.
No, I'm not open to discussing the Cult of Arceus. Please stop asking.
What Pokemon would I be? This one, apparently: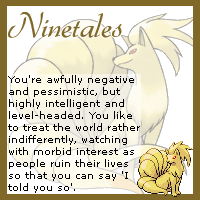 Badge Showcase
| | | | | | | | | |
| --- | --- | --- | --- | --- | --- | --- | --- | --- |
| Set #1 | | | | | | | | |
| Set #2 | | | | | | | | |
| Set #3 | | | | | | | | |
| Set #4 | | | | | | | | |