Contact
Last Action
Visiting the Dream World Shop
(3 Hours ago)
Game Records

Trainer ID:
#673028361
Registration:
08/03/2019
(1 Year ago)
Game Time:
1530:21 Hours
Total interactions:
1,379,962
Money:
8,221

Starter Pokémon:

Swampert






Feeds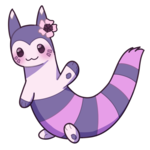 By TremorzGG - 1 Hour and 4 Minutes ago.
As I leave this amazing site with the upmost respect for those who have given their time to not belittle me while learning the game, I would like to thank each and everyone of you guys who've helped me. Just like the post and share for a chance to win 6.2 Million Pokedollar.
Ends tomorrow at reset.
#ByeFriends
Events
Here are my favorites

Goals
Get a Silver Medal
Collect all the badges
Completed dex
Kanto
Johto
Kalos
Hoenn
Kalos

Missing dex entry
Sinnoh 2 missing
Unova 4 missing
Alola 26 missing
Galar 10 missing
Emera 32 missing
Retro 16 missing
Info
Only Pokemon in Auction Trade box are available for Trade or Sale.
All other Pokemon are not for sale
Tragedy
Thank you to Miizyu for this and profile pic.