Shiny Hunt
KittenPaws404 is currently hunting
Maneki Espurr
.
Hunt started: 09/06/2019


Chain: 20
0

KittenPaws404's note 2 u;
Hello, just your local anti-social, stupid as fluff, oddball who lives in a corner on the internet.

~

Please pardon me if I seem weird, or awkward when replying to a message... I've been having a real hard time trying to communicate with people

~

if you need anything feel free to ask, I'll be more than happy to help you to the best of my ability's.

~

I hope you've had a wonderful day/night so far. :3
Game Records
Trainer ID:
#726493687
Registration:
03/02/2017
(2 Years ago)
Game Time:
244:07 Hours
Total interactions:
151,501
Money:
275,022

Starter Pokémon:

Swampert
Feeds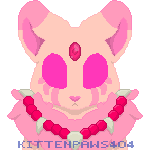 #HelpTheEmber
Hello, Mx.Anon(s) What you're doing isn't nice and is truly disgusting. You should be ashamed of yourself/yourselves, trying to isolate and harass someone for being themself and being apart of this community. I truly do hope that who ever is pulling this stunt are brought to justice and banned... This is behavior is unacceptable, and hopefully gets resolved soon.
AmberLikeEmber I'm truly sorry this is happening, and I hope that they are caught and banned for this.
Contact
Last Action
Viewing a Userprofile
(2 Hours ago)
Last Visitors
Visitors
Leo_chara3
Thu, 12/Sep/2019, 23:07
CrystalBorf_aDORKable
Thu, 12/Sep/2019, 21:53
LegendaryTreecko12
Thu, 12/Sep/2019, 21:23
Saph
Thu, 05/Sep/2019, 23:53
Teal-Sneasel
Thu, 29/Aug/2019, 22:41