Forum Thread
greetings from noivern !
Forum-Index
→
Introduce yourself
→
greetings from noivern !
paranoivern

OFFLINE
Trainerlevel: 17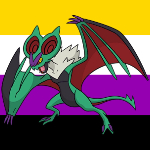 Forum Posts:
1
hello ! my name is paranoivern , but you can call me noivern or leo ! i've been a pokémon fan for over a decade , and i'm excited to join a new pokémon community ! i look forward to making friends and catching 'em all !
my favorite pokémon is totodile , my favorite type is electric , and my favorite region is kalos ! i'm a casual player with a slight interest in both shiny hunting and competitive play , but i've never seriously tried either . feel free to talk to me about all things pokémon !
---
noivern | he/they/rawr