Forum Thread
Tox's Artwork
Forum-Index
→
Fanmades
→
Fanarts
→
Tox's Artwork
2020 Artwork



Many of these sketches were done with a computer, and somehow, that's my preferred type of device for digital art (I can't draw with a phone lmao)



---
2021 Artwork

Show hidden content
---
(Not my oc!! She belongs to Louixie, and her name is Crow'Song)
(Fanart of a character from the '17 DuckTales named Lena!)


2021 was growth for me and my art! I was more confident with exploring varied sketches, and attempting new things to sketch. Overall, it was definitely one of my more successful years of art. This is all of my saved computer art from the time.

I started getting more into a game called Xanje around this time, so if anyone sees a user named king there, it's me :'>

---
2022-Present Artwork


Unfortunately, my mental health dropped and I faced intense art block to the point I couldn't even sketch something small. I barely did any sketches this year, but the ones I have saved are shown in the spoiler, and I'm proud of myself for the progress.





This was my favorite sketch to make, and it always will be. This is the only sketch I've ever done that I truly love with all of my heart, and it's the one I spent the most time on detailing. It's never going to be finished, but I love it regardless.

---
BerryGeneral

OFFLINE
Trainerlevel: 26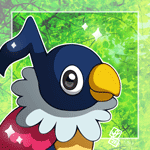 Forum Posts:
17