Forum Thread
♥ Nico's PWYW Pixel Café [OPEN] ♥
Forum-Index
→
Fanmades
→
Spriting
→
♥ Nico's PWYW Pixel Café [OPEN] ♥
subwayboss

OFFLINE
Trainerlevel: 12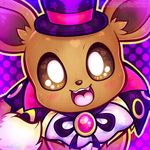 Forum Posts:
1
NICO'S PIXELS
Hi there! I started editing some sprites for fun, and I thought I'd share them! They're based on real-life animal mutations!
These are PWYW, but I ask for at least 500 pokédollars per edit! I also am only doing generations 1-5 as of now!
EXAMPLES / OPTIONS BELOW!
Albinism:
Melanism:
Leucism:
Piebaldism:
Normal/Shiny Chimera:
Gynandromorphy:
---
ORDER FORM:
Username:
Pokémon you want:
Mutation / Option you want:
Payment:
---