Forum Thread
Hi!
Forum-Index
→
Introduce yourself
→
Hi!
I stumbled upon this site while I was browsing around and I'm really enjoying the game so far! I love how nice it is to do mass-clicks, very easy and not a huge chore compared to pokefarm.
Super tempted to make some fakemon sprites now, I took a look on wiki and I love the cursed rapidash design a whole lot <3
---
I'm glad you like it here! If you have any question I'm totally open.

Also though it's really expensive I suggest saving up for the shiny radar and maybe even the shadow radar if wanted. :0
---
CinnamonChai

OFFLINE
Trainerlevel: 42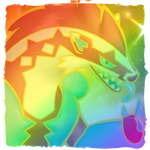 Forum Posts: 417

Nuggets can be gotten in a couple ways, they can be bought at Emera mall, gotten through trading at the gts, and are gifted as a daily reward 3 at a time.
Some more info on the shiny and shadow radar

Show hidden content
---
The shadow radar and shiny one are both 500k pd but to start hunting a shiny Pokemon you must pay 50k, 50 electric gems, or 50 nuggets and for the shadow radar it costs 200 pd at start a hunt and you need pokèballs to catch them. You can also only get 1 shadow Pokemon per day but you can by an add on that let's you hunt 1 more for 360 nuggets. The add on can be bought 4 times.
(Edit: Thanks CinnamonChai didn't notice when I posted sorry xD)
---
BlankPaige

OFFLINE
Trainerlevel: 10
Forum Posts: 2
@BlankPaige

Not quite sure why you posted here but... starters aren't that common to see being thrown around is cause it's a bit hard to find a breeding pair of them and not everyone can get a ditto so since you only get one starter not many people are willing to sell it. Also I bet you just aren't using the right keywords on the wiki to find articles about starters.
---
BlankPaige

OFFLINE
Trainerlevel: 10
Forum Posts: 2