About Me!
Do NOT ask for prices on things I am not selling or else you will get an immediate block

Collecting these~



Show hidden content
---
Went from CrystalAkiHeart to Crys to ~JIMINIE~
For a start I love Yin And Yang
I'm an optimistic bean!!!!!!My favorite pokemon is Sylveon~ Call me Aki! I am a Libra and my birthday is October 15. My avi is done by aaaaaaaaaaaaa






Show hidden content
---
The art here is not mine. Credit to the people who did this!

Drawn by Argentis

---

Drawn by Nymph
Badge Showcase
| | | | | | | | | |
| --- | --- | --- | --- | --- | --- | --- | --- | --- |
| Set #1 | | | | | | | | |
| Set #2 | | | | | | | | |
| Set #3 | | | | | | | | |
| Set #4 | | | | | | | | |
Game Records

Trainer ID:
#86082089
Registration:
08/11/2016
(2 Years ago)
Game Time:
721:34 Hours
Total interactions:
171,842
Money:
1,229,015

Starter Pokémon:

Swampert
Feeds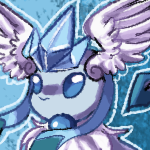 #MyGoals
IRL:
-Keep my grades up! (Til Promotion/Forever)
-Get the classes I want for my future school
-Keep in touch with my friends when we leave for our future school (I am somewhat)
-Become a better person to my friends and family (I've gotten better)
-KEEP WATCHING ANIME FOREVER!!!!!!!!! (HAHAHA STILL AMM)
-Get better at drawing!! (My improvement is great! If anyone's interested i'll try to put a recent drawing in the comments)
Here on PH: Finished~~~~~~
-Get one Mil!
-And possibly join a shiny shop
-Hopefully get good enough in drawing to set up an art auction!
-Finish Badges set 2
2 Days ago
1 comment
Contact
Last Action
Browsing through notifications
(11 Hours ago)
Last Visitors
Visitors
Cokodora
Wed, 16/Jan/2019, 19:10
DespaCEEEEEEEEETO
Sun, 13/Jan/2019, 06:26
PerfectJasper
Sat, 12/Jan/2019, 00:19
ZombieQueen
Sat, 12/Jan/2019, 00:16
alolanraichu
Fri, 11/Jan/2019, 23:53