Party
Pkmn
Name
Level

EXP

/

EHP

1st shiny J OS
(Unown J)
SHINY
615
149,638 / 1,136,521
1st shiny D OS
(Unown D)
SHINY
526
75,265 / 831,607
Jd jr
(Umbreon)
SHINY
1,632
784,179 / 7,995,169
Bulb of Hope
(Bulbasaur (Retro))
SHINY
126
42,788 / 53,913
Ember of Passion
(Charmander (Retro))
SHINY
238
3,331 / 197,721
Bubble of Sanity
(Squirtle (Retro))
SHINY
224
32,761 / 174,807
Shiny Hunt
Disappointed is currently hunting Moltres.
Hunt started: 06/09/2018



Chain: 1
(0 Shinies hatched so far.)
Game Records

Trainer ID:
#452364452
Registration:
28/09/2015
(3 Years ago)
Game Time:
3456:38 Hours
Total interactions:
1,433,239
Money:
54,891

Starter Pokémon:

Charizard






Feeds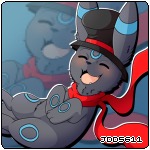 Sooo.. I don't feel like spending any more time taking offers I'm unhappy with for my babies. And that means I'm officially gone today. My babies have found homes with those I trust the most.
I'll miss some of you, you know who you are. I hope we can stay in touch elsewhere. <3
Just wanted to say thanks to Riako and the staff. Y'all are precious, and I hope the community goes back to its warm and loving way it used to be, eventually.
I appreciate the good times, take care everyone.

27 Days ago
13 comments