Forum Thread
Welp Time For an introduction
Forum-Index
→
Introduce yourself
→
Welp Time For an introduction
Alikhannasa

OFFLINE
Trainerlevel: 34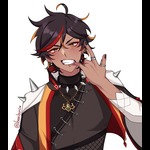 Forum Posts: 9
Well....Haii Haii Evwyone my Name ish Ali
~I joined around 3 days ago and never got the chance to make an introduction so welp.....here it is XD
~I hope that we can be great fwiends I honestly love to make new fwiends.
~I'm really friendly so don't hesitate to pm meh but be warned I'm very shy and awkward.
~My birthday is actually next week so that's good
~I'm also a huge Weaboo and Koreaboo
~I've been a huge fan of the pokemon series I've played almost all the games and seen most of the movies and watched the entire show and read all of the manga.
~I'm currently a shy awkward overemotion boi in high school and I look forward to spending a lot of time here and making lots of fwiends
---