Badge Showcase
| | | | | | | | | |
| --- | --- | --- | --- | --- | --- | --- | --- | --- |
| Set #1 | | | | | | | | |
| Set #2 | | | | | | | | |
| Set #3 | | | | | | | | |
| Set #4 | | | | | | | | |
Game Records

Trainer ID:
#829030891
Registration:
03/04/2016
(2 Years ago)
Game Time:
1222:16 Hours
Total interactions:
217,707
Money:
708,015

Starter Pokémon:

Sceptile
Feeds
About Me
I love Pokemon. I have many of the games and a small collection of cards. I still play XY and ORAS. I'm also excited about the future games of Sun and Moon.

I also am a member of a few other game sites.
ClickCritters, Dragon Cave, DNAdopts and Virtuadopt to name some.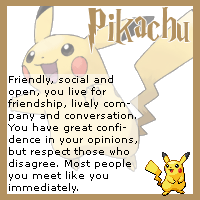 Key:
T = Pokemon I got from a Trade (ex: Spike my M Pika in Box 4)
M = Mega-ble (Ex: Vander my Venusaur)
M-A = Mega-ble I got from an Auction (ex: Leroy my Lucario)
M-T = Mega-ble I got from a Trade (ex: Peter my Pigeot)
S-A = Shiny I got from an Auction (ex: Pandora my Pidgeot)
R = Retro (Ex: Penny my Pika in Box 4)
Contact
Last Action
Watching the Rumble Overview
(1 Hour ago)
Last Visitors
Visitors
jollybowser
Sun, 17/Jun/2018, 09:35
La_Lapras
Sun, 10/Jun/2018, 12:24
Vixie
Thu, 07/Jun/2018, 14:26
Rainstorm
Mon, 04/Jun/2018, 01:19
Milli
Sun, 03/Jun/2018, 23:53