Game Records

Trainer ID:
#116830130
Registration:
26/11/2017
(1 Year ago)
Game Time:
622:55 Hours
Total interactions:
2,463,624
Money:
875,850

Starter Pokémon:

Typhlosion


Feeds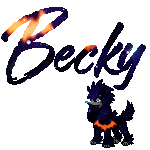 I don't understand why some people are getting upset by the event. Before you say anything about history, religion what have you, why does it matter? No one is forcing this on you, you do not have to be apart of the event nor really look at it.
I just don't get why you can't enjoy the creativity behind the sprite. It looks amazing!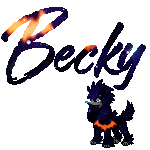 About me
|Becky ~~~ 26 ~~~ Female|
My life:

~I own my own business as a dog walker and pet sitter, working on making it my full time job, but for now I do a regular desk job on the weekend.

~~I am pretty shy, but I am always willing to talk, but keep in mind I am horrible at keeping a conversation going so if I don't answer do not take it personally.

~~~I can be very straightforward so if I offend you, tell me to back off.
Poke Stadium Sprites
Done by ^
Premium shiny hunts
First

~~

Second

~~

Third

~~

Fourth
~~

Fifth

~~

Sixth

~~

~~

Seventh

~~