Shiny Hunt
Csoxi is currently hunting Pansear.
Hunt started: 19/08/2018



Chain: 25
(0 Shinies hatched so far.)
Metagross
Gift from
CeNedra
<3
Its a secret info
2x Ditto
2x Moltres
3x Deoxys
1x Maractus
Game Records

Trainer ID:
#303134335
Registration:
11/11/2014
(3 Years ago)
Premium member
until
07/Sep/2019
Game Time:
5577:19 Hours
Total interactions:
4,070,781
Money:
231,808

Starter Pokémon:

Blaziken






Feeds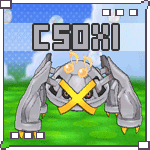 Nearly 4 years ago,i registered to this awesome site,and after a few months i met a nice girl her, who became my best friend here ever... She is
HappyDebby15
...
I know i made her disappointed a lot of times,but she always stayed my friend... When we met,i saw she likes Pikachu and i decided one day when i can i will hunt her a shiny Satichu

Now the miracle happened with me and
this little guy
hatched

Thank you Debby for being my friend through hard days, and i hope you will be here for me in future too <3 *crying*
9 Days ago
4 comments
Quick info
EVERYONE WHO CALLS ME "BRO" WILL BE BLOCKED...
I'M NOT ANYONE'S BRO... THANKS...